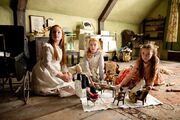 The 3 Fisher Girls are characters from the Woman in Black. They are victims of the Woman in Black. They were playing in their attic when a person off the screen makes them stand up, walk over to the window and jump out in a trance.
3 Fisher Girls

Age

8

Played by

Emma Shorey, Molly Harmon, Ellisa Walker-Reid

Gender

Female

Cause of death

Jumped out of their attic windows.