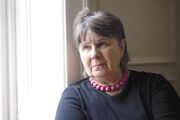 The Woman in Black was written by Susan Hill it was the first ghost story she ever wrote. It took her six weeks to complete the book.
From then on its been made into a play on London's West End, now thanks to Hammer Films the book is about to come to life with James Watkins as the director of The Woman in Black which comes February 3, 2012.
Ad blocker interference detected!
Wikia is a free-to-use site that makes money from advertising. We have a modified experience for viewers using ad blockers

Wikia is not accessible if you've made further modifications. Remove the custom ad blocker rule(s) and the page will load as expected.