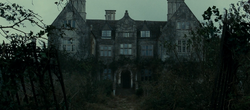 Eel Marsh House
is a manor located near Crythin Gifford. It is located in Eel Marsh Island, a plot of land surrounded by marshland, accessible only via the Nine Lives Causeway (which floods in high tide, blocking all access).
In the 1880s, Eel Marsh House was the residence of the Drablow family, Charles and Alice. When Alice's sister, Jennet Humfrye, was deemed "mentally unstable" to raise her child born out of wedlock, Nathaniel, the Drablows took him in, and raised him as their child, refusing Jennet visits and not giving him her birthday cards. After Nathaniel's accidental death on the causeway, Jennet hung herself from the rafters on the nursery, and has haunted the house since then.
In 1916, following Alice Drablow's death, Arthur Kipps was sent to the house to collect her papers and to assure there weren't any updated last wills and testaments. Kipps spent less than a week in the house.
In 1941, the Board of Education approved the abandoned house to hold orphaned students, accompanied by their teachers, Jean Hogg and Eve Parkins, to keep them out of London during The Blitz.