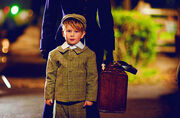 Joseph Kipps is a character from the Woman in Black. He is Arthur Kipps' son and a victim of the Woman in Black. At the end of the film, at the train station while Arthur was talking to Mr. Daily and the nanny is getting train tickets, Joseph saw the Woman in Black and she made him walk towards the oncoming train. Arthur tried to save him but they were both hit. They were then reunited with Stella, Arthur's wife.
Joseph Kipps

Age

4

Played by

Misha Handley

Gender

Male

Cause of death

Walked towards the oncoming train and was hit along with Arthur when he tried to save Joseph.
Joseph Kipps along with the 3 Fisher Girls are the best known victims.
In an attempt to showcase a true family bonding, the casting directors cast Joseph as Radcliffe's actual godson.
Joseph is the youngest victim of the Woman in Black at the age of 4 as well as one of the only victims along with Arthur as of yet to avoid being trapped with her in the afterlife.