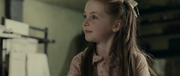 Molly Harmon is an actress well known for playing 1 of the 3 Fisher Girls. She along with Emma Shorey and Ellisa Walker-Reid played in the opening scene of The Woman In Black as the 3 Fisher Girls.
Kitten In Cat Trap (short) - Girl In White
Evelyn (short) - Daugther
The Woman In Black - Fisher Girl
Interview with a Hitman - Young Girl
Casualty - Phoebe
Lizard girl - Sam
Ad blocker interference detected!
Wikia is a free-to-use site that makes money from advertising. We have a modified experience for viewers using ad blockers

Wikia is not accessible if you've made further modifications. Remove the custom ad blocker rule(s) and the page will load as expected.